About Franchise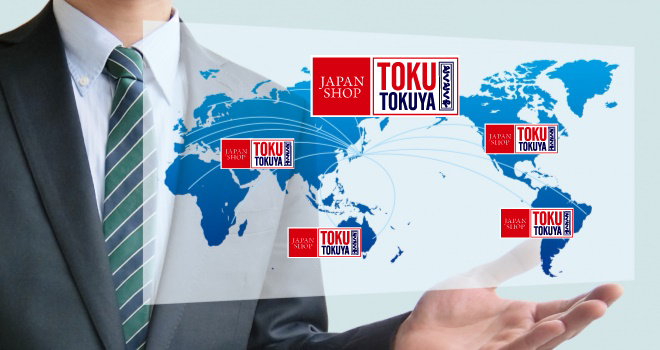 Becoming Franchise Owner
We are looking for owner who wants to operate TOKUTOKUYA franchise shop abroad.
From launch of the store to operation, we will fully support you by making full use of our extensive experience.
Countries and Area
Singapore

Malaysia

Vietnam

Myanmar

China

Russia

Philippines
and more…
About Service
Wide Variety Items

We are dealing with over 20,000 kinds of products in Japan.
We handle a wide range of items ranging from cheap products to expensive merchandises and foods as well.

You can order each merchandises from at least 1 SPQ*.
(* Standard Packing Quantity / Avg 12pcs)
Speedy Shipment

Only takes 2 weeks to departure from Japan.
Our experienced staff members fill the container with the merchandises you ordered.

Order procedure is quite simple. You can use our exclusive order tool, search, select and order products easily.

We support for defective products smoothly.
Awesome Packing

We pack merchandises you ordered into cartons carefully.
Merchandises also can be packed separately for each shop.
Our Service

We clear customs in Japan.
This cost is included in the price of merchandise.

We also provide documents you need for customs clearance in your country.

We can offer the sticker labels of food products or daily goods.
Becoming Franchise

You can use the TOKUTOKUYA brand.
We also allow you to use the TOKUTOKUYA logo for shop signs and so on.

Please contact us if you have any questions.